1)Excellent mechanical properties, high bond strength, tensile strength, elasticity, good extension performance, strong adaptability to deformation and cracking for interface.
(2) the stable chemical properties: it has excellent chemical resistance, weather resistance and corrosion resistance.
(3) the application of reliable performance, its cohesiveness, waterproof, sealing, low temperature resistance and good follow, size stability is good.
(4) simple operation process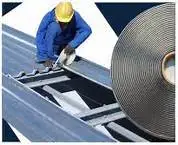 New construction of the roof waterproof, underground waterproof, structure construction joints of waterproof processing and high polymer waterproofing lap seal.
(2) the subway tunnel structure in municipal engineering construction joint seal waterproof processing.
(3) color contour plate juncture place airtight, waterproof, shock absorption. Sunshine plate juncture place in airtight, waterproof, shock absorption.
4 )adhesive seal processing in car assembly
May take place in steel structure construction waterproof seal processing
composite aluminum foil butyl tape is suitable for all kinds of civil roof, color steel, steel structure, waterproofing materials, such as PC board waterproof seal in sunlight